I am not a big fan of the mall. It's expensive and it's crowded. But yesterday I took my girls there for some shopping and I was truly inspired by these fabulous pants: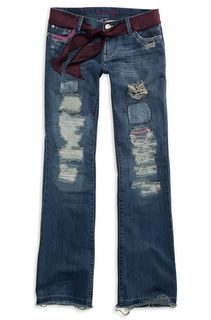 They are called "Destroyed Jeans" and you can find them at American Eagle Outfitters! This particular style is called "Embellished Hipster Flare Jean" and it can be yours for a mere $68.00! Notice the myriad of threadbare areas across the thighs and the colorful fabric patches just like grandma used long ago to make clothes last longer. That's right, you can purchase destroyed clothing for under $70.00.

This has major potential, ladies!

Being the entrepreneurial type, I have decided to start my own business, I am calling it "Randeez Thrasher Wear". ( Did you notice the cool spelling of my name, I think it adds to the hip-atmosphere that I want my business to maintain.) Here is my first set of offerings:


Girls Converse Shoes, Size 8-$69.00
Wearing a pair of severely trashed Converse shoes proves that you are cool. You are not some trendy wannabe wearing the latest craze, you STARTED the craze, and the fact that the heel of your shoe is falling off is proof of this!


Men's Work Shorts, Size 32-$56.00
These are especially appropriate for the sluggard who doesn't like to spend too much time working. Just don these shorts after a long day of doing nothing and you will fool your neighbors and friends into thinking you are a hard working kind of guy.


Boy's Shirt, Size 10-$39.00
Why buy brand-new t-shirts for your boys when you know they will probably wreck, or at least stain them the first chance they get? This t-shirt features an air-conditioning hole just above the belly-button, making it the perfect shirt for hot summer days!

Just when I thought the mall was a waste of my time, it proves itself to be a source of entrepreneurial inspiration. I'm gonna be rich!

Have a happy Friday!