Thank you so much for all the prayer yesterday! I feel truly blessed by all of you!

Emily's blood draws were rather painful but she did great. By the last one there were a few tears and I had to hold myself back from tearing the nurse off of her arm and we were very relieved when all of it was over! The doctor is checking for lactose intolerance and for ulcers, and we hope to have some answers soon.

Since Emily's arms are very sore from the needles she is having a hard time doing things, like eating. She looks like she has a brand new set of arms and hasn't quite figured out how to use them. She reminds me a little bit of Edward Scissorhands! It is too cute! Honestly, it is nice to have her need me to help her do little things like tying her shoes or getting a cup from the cupboard!

Now we just wait for test results...
___________________________________________________
My husband has been reading this book to our kids in the evenings: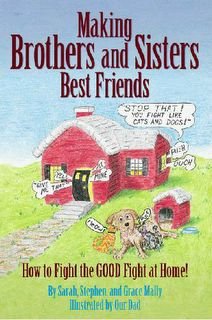 It is written by 3 siblings, ages 12, 16, and 22, and it provides practical ways to pursue close relationships within a family and how to deal with strife. It is written in a conversational style perfect for kids. The authors use biblical principles and they apply stories from their own experiences to convey these important truths. This book is a wonderful family read-aloud!